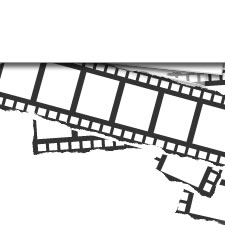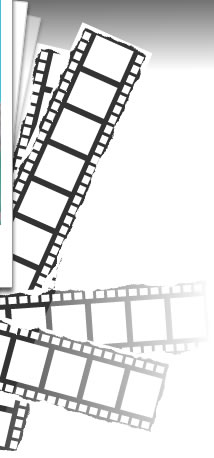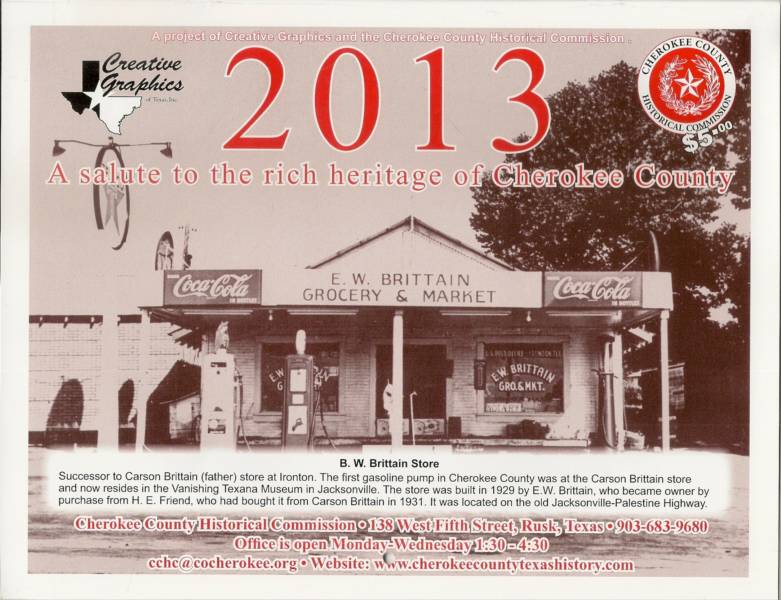 Thanks once again to John Thomason, CCHC member and owner of Creative Graphics, for publishing our annual calendar.
Happy New Year! Thanks to our County Commissioners, Judges Chris Davis, Bascom Bentley and everyone in Cherokee County we are off to a great start in 2013. CCHC members appreciate the many photos and stories that everyone has shared. It's important for all of us to perserve our county's history! Check out the bulletin board located at the back entrance of the County Courthouse--each month a new historical display of county images and stories is featured.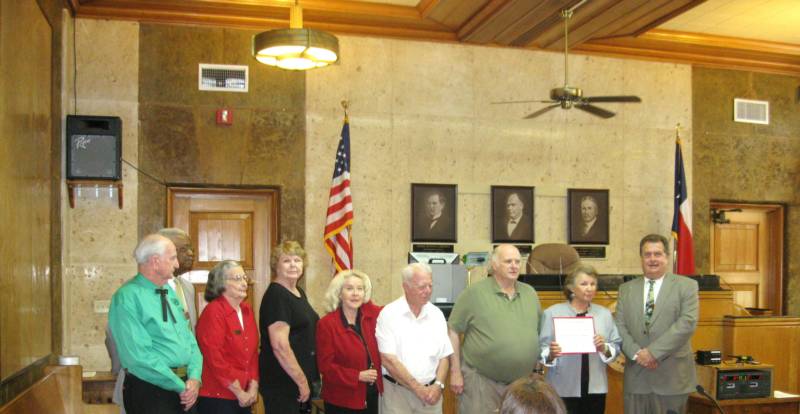 CCHC Chair Elizabeth McCutcheon accepts the 2010 Distinguished Service Award from the Texas Historical Commission. The Cherokee County Historical Commission once again was recognized by the state for their worthy historical projects. Left to right, Shelley Cleaver, Dr. Richard Hackney, Mavis Wallace, 'Butch' Holcomb, Dr. Deborah Burkett, Willie Harold Acker, Terry Guinn, Elizabeth McCutcheon and Judge Chris Davis.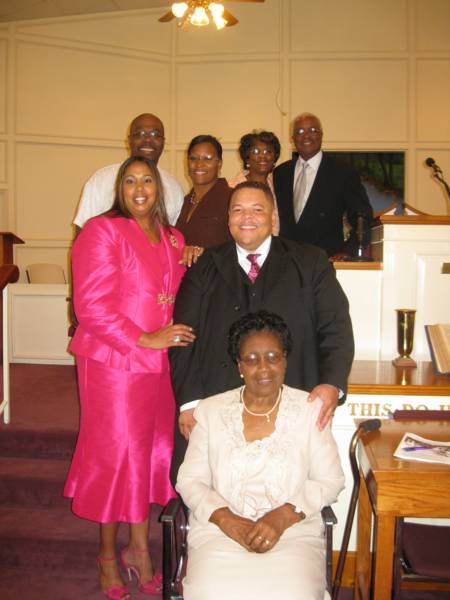 Corinth Missionary Baptist Church, near Bullard, Texas celebrated 147 years! On June 12, 2011 Corinth Pastor John D. Johnson III welcomed guests, friends and representatives from churches throughout Smith and Cherokee Counties. The Corinth Choir sang and praised God for his many and continued blessings. Tyler Pastor Derry Hinton of God's Way Baptist Church provided the 3 o'clock message. Seated and in front is the oldest active member. CCHC member Dr. Richard Hackney and wife Teresa are on right in back row.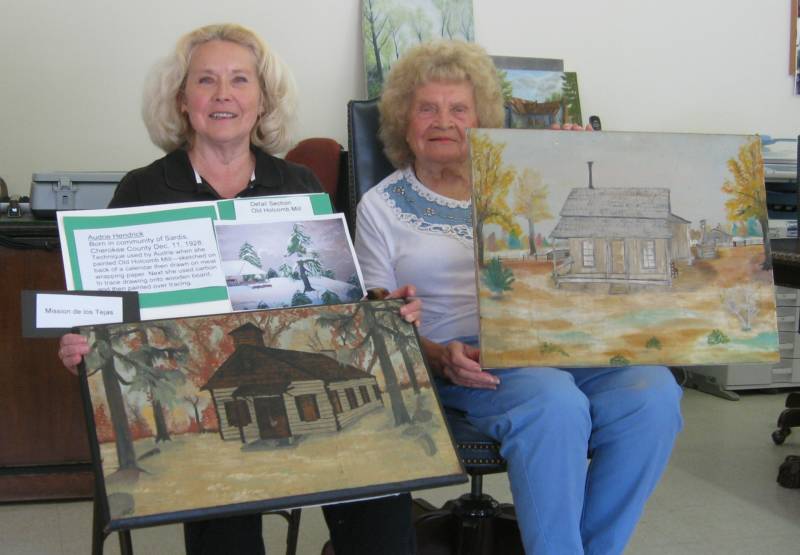 Thanks to artist Audrie Hendrick for loaning several of her paintings for the CCHC window display. On the left below is member Deborah Burkett who spear headed the 'Artists in Cherokee County' Project.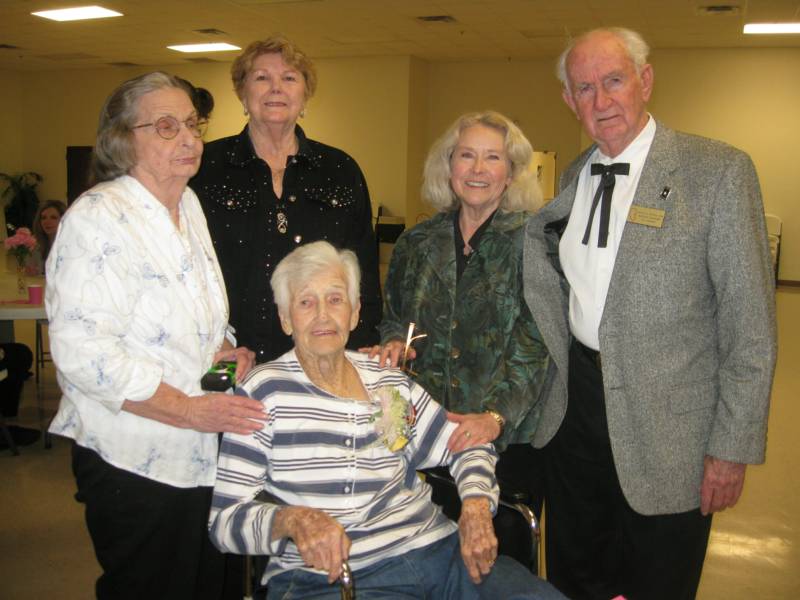 Rusk resident, Mary Goff turns 100! A life lived 100 years can't be truly appreciated without first putting that life in historical context. Mary Ellen Bailey (Goff) was born February 17, 1912, the same year the sinking of the RMS Titanic occurred and two years before the start of World War One.
When your life spans a century your story can't be told quickly. For this tribute three chapters from Mary's 'life book' will be shared: place of birth, employment history and fondest memory of Cherokee County, which by the way resulted in a secret never before shared. (For the full story of Mary's life as told to Deborah and Mavis Wallace, Google the SFA Wevsite--Local Authors, Deborah Burkett, Mary Goff Turns 100)

A birthday party was held at the Rusk First Baptist Church and everyone who attended felt blessed to be there. Seen above left to right with Mary are members of the Cherokee County Historical Commission: Mavis Wallace, 'Butch' G. Holcomb, Deborah Burkett and Shelley Cleaver. (not pictured is Elizabeth McCutcheon).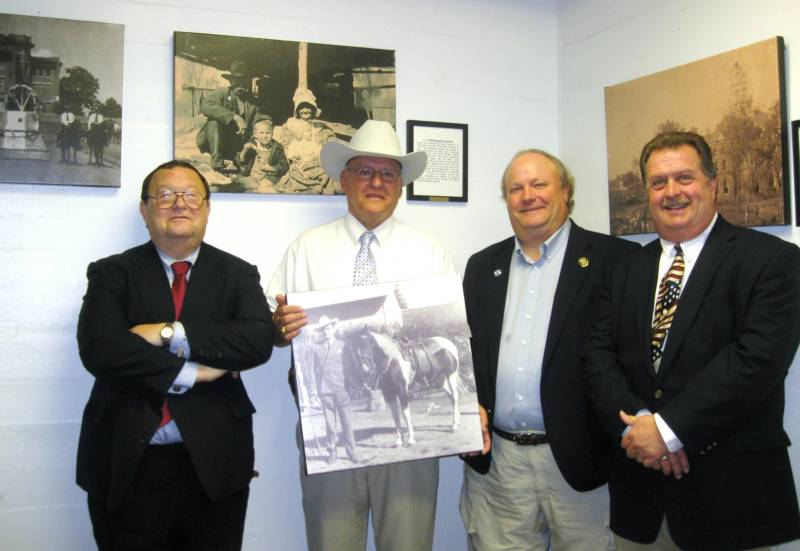 Below, The Rusk Courthouse Photo Preservation Committee is seen presenting Sheriff James Campbell with a canvas of a rare 1930s photo of Sheriff Bill Brunt and his horse Traveler. Long known as a history buff and leader of preservation projects in both Anderson and Cherokee Counties, District Judge Bascom Bentley III speared headed this effort and is seen on the left. Next is Sheriff Campbell, then Jacksonville lawyer Ricky Richards, and County Judge Chris Davis. Not pictured is the final member of the committee, Deborah Burkett. She took this photo and is proud to be a committee member, representing the Cherokee County Historical Commission in this effort. (See the projects Section of our Website for more.)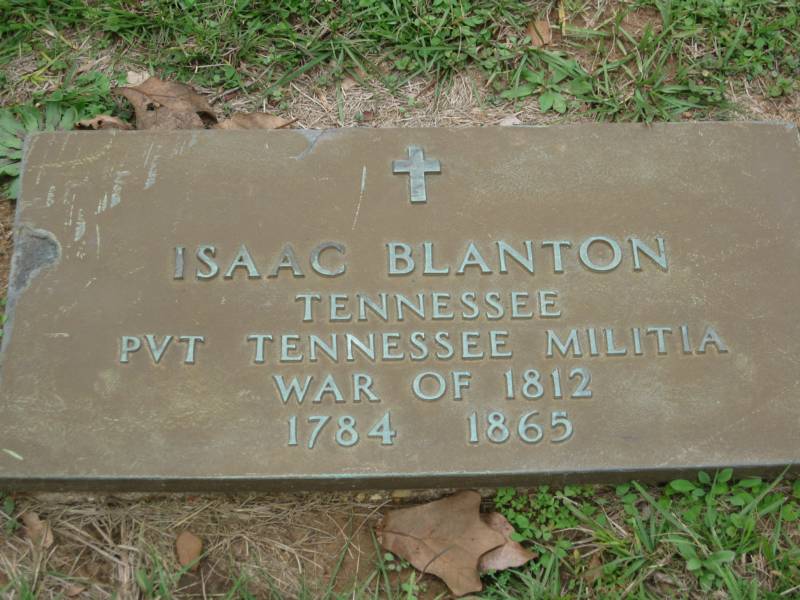 Christmas and the War of 1812 by Deborah Burkett
Sitting down to write my December column, I toyed with several ideas. Needing a story related to Christmas yet steeped in Cherokee County history, I settled upon one with connections not only to my own genealogical backyard but to many in the county as well. Often called the 'Second War of Independence', the War of 1812 was the second declared conflict between Great Britain and the United States. Reasons for the war included British trade restrictions and their support of Indian Tribes against American Expansion. Fought on three fronts--at sea, on the Canadian frontier and in the American South; this war raged over the course of three years. At the hands of the British along with Canadian and Native American troops, the United States suffered many costly defeats including the burning of the nation's capital, Washington DC, in August 1814.
In the South and Gulf Coast region the American forces defeated Britain's Indian allies and repulsed a British invasion force at New Orleans. American forces led by Major General Andrew Jackson defeated the British who were intent in seizing New Orleans and the vast territory the US had acquired with the Louisiana Purchase. Sam Houston served with distinction in the Battle of Horseshoe Bend in 1814 and was severely wounded; later he would become the first President of the Republic of Texas.
Even as British troops were trying to occupy Washington, British and American diplomats were meeting in Ghent, Belgium, in an attempt to negotiate a peace. But as Christmas approached, war still raged in New Orleans, with casualties in the night battle of 23 December 1814. No Christmas merrymaking for these soldiers.
However one of the most significant Christmas parties during the War of 1812 occurred thousands of miles from North America. The Treaty of Ghent was signed Christmas Eve, 1814. Negotiators, which included future American president John Quincy Adams and future presidential contender Henry Clay, crafted an end to the war. The next day, representatives sat down to a Christmas dinner of beef and plum pudding brought especially from England. Toasts were drunk to the health of King George and President Madison, the orchestra played "God Save the King" and "Yankee Doodle."
Another song linked to the War of 1812 was penned by Frances Scott Key. Watching the defense of Baltimore's Ft. McHenry (a turning point in the war) he was inspired to write a poem which became the "Star Spangle Banner". By the end of the century, many American children had never heard of the War of 1812. By the 1960's, it was reduced to a folk song, "The Battle of New Orleans" recorded and made famous by Johnny Horton in 1959.
This Christmas, homage should be paid to those who served in the 'forgotten war'. As the 200th anniversary of the War of 1812 is marked, many in Cherokee County pause as they remember ancestors who fought. Mine, Benjamin Alexander Long, Bedford County Tennessee, fought at the Battle of Horseshoe Bend and the Battle of New Orleans. After his death due to wounds suffered in the war, his wife, Mary Moore Dickson, and their children migrated to Republic of Texas; she is buried in Smith Cemetery, Tyler.
Others in Cherokee County with ancestors who served include Mary Taylor (William "Uncle Billy" Trotter, Lee County Alabama), Carolyn McCall (Lt. Ebenezer Bryan and Private Levi Hinds), Carol Boone (Charles McCall), Melba Darrow and sister Sylvia Gould (Nathaniel Smith, Tennessee), Eunice Jackson (Elias Richardson, New Hampshire, served in Canadian Army) and Otha Blanton's ancestor, Isaac Blanton PVT Tennessee Militia, whose final resting place is documented in Cherokee Co., Mixon Cemetery.

Descendants of Jacksonville Founder Visit Historical Commission Office
Sarah M. Kathan and her son, Kenneth Kathan from Anahuac, Texas. He is a decendant of Jackson Smith.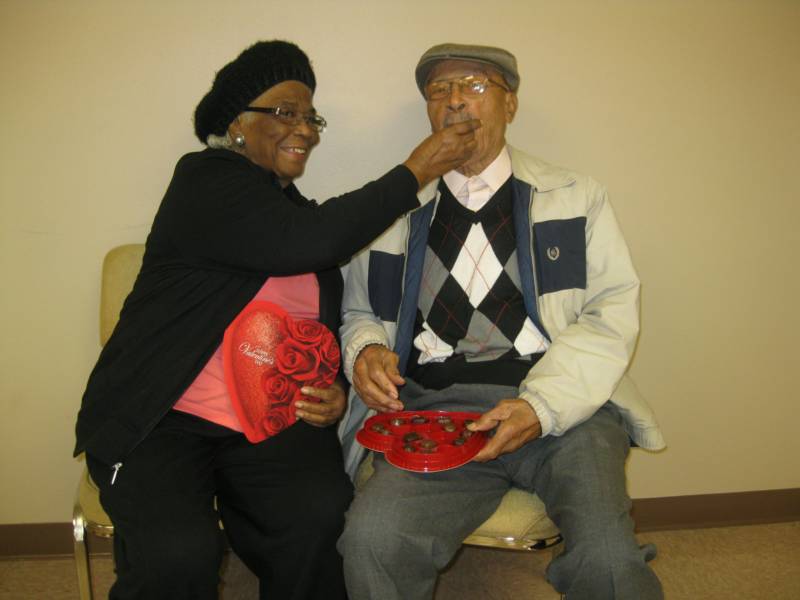 Happy 60th Wedding Anniversary to Wardell and Verion Starling! Seen here eating chocolates at the Cherokee County Retired School Personnel Meeting.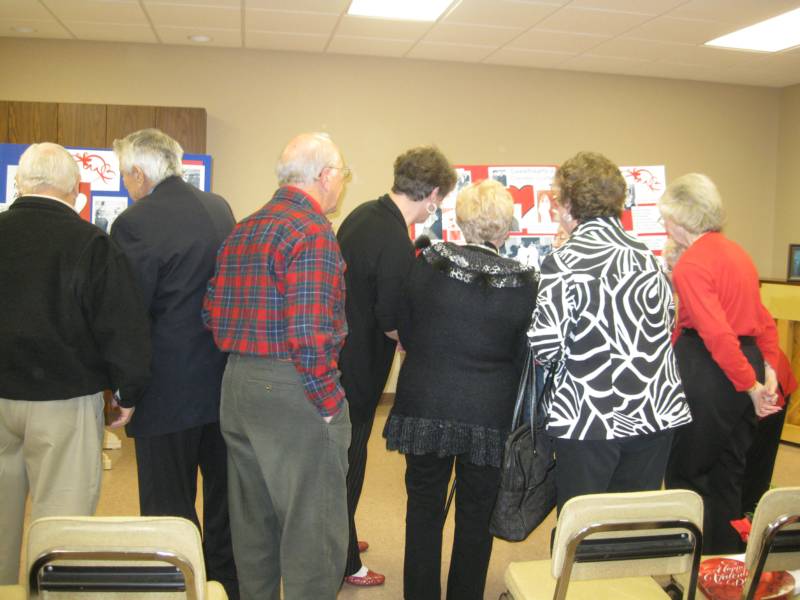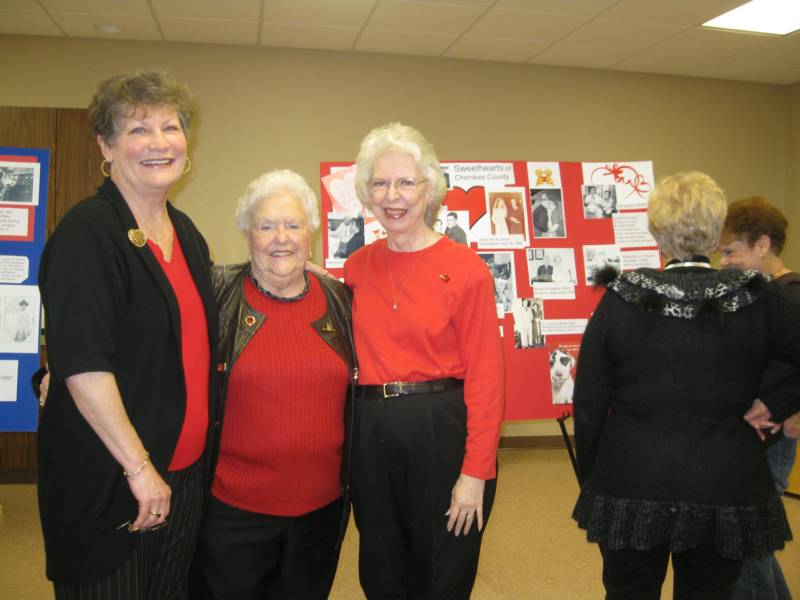 Retired School Personnel Walk Down Memory Lane A recent meeting of CCRSP provided an opportunity for everyone to remember their courting days. Deborah Burkett of the Cherokee County Historical Commission presented the monthly program which included several tri-fold posters. One was filled with photographs of club members as sweethearts in all phases of their lives—going to the drive-in movie, walking down the aisle, and through a lifetime of joy. Several images were of war brides which spoke to the cherished relationships forged during troubled times. The other poster paid homage to our pioneer ancestors and courting practices in the 1800s. Deborah's concluding remarks covered the historical impact of Esther Howland (1828-1904), considered the mother of the American Valentine whose business led to sales of $100,000 per year.
Chair Elizabeth McCutcheon has submitted the Annual Report and once again due to the hard work of each CCHC member the Texas Historical Commission has recognized Cherokee County! Below are two photos taken in the courthouse, one for the 2010 award and the other for the 2011 award.
Seen below at the Reitired School Personnel Meeting left to right and reminiscing about their younger days are: Rose Ann Cunningham, Mary Taylor and Peggy Mullinix. On the far right examining one of the posters are Glenda Humphreys and Sandra Slawson.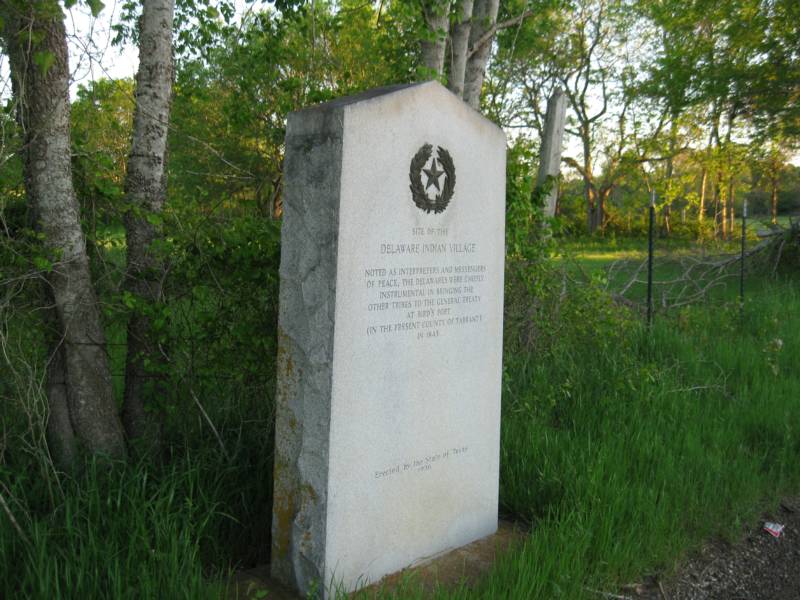 As the 200th anniversary of the War of 1812 is marked, many in Cherokee County pause as they remember ancestors who fought. Contact us if you have an ancestor we can add to the Veterans section of our archives.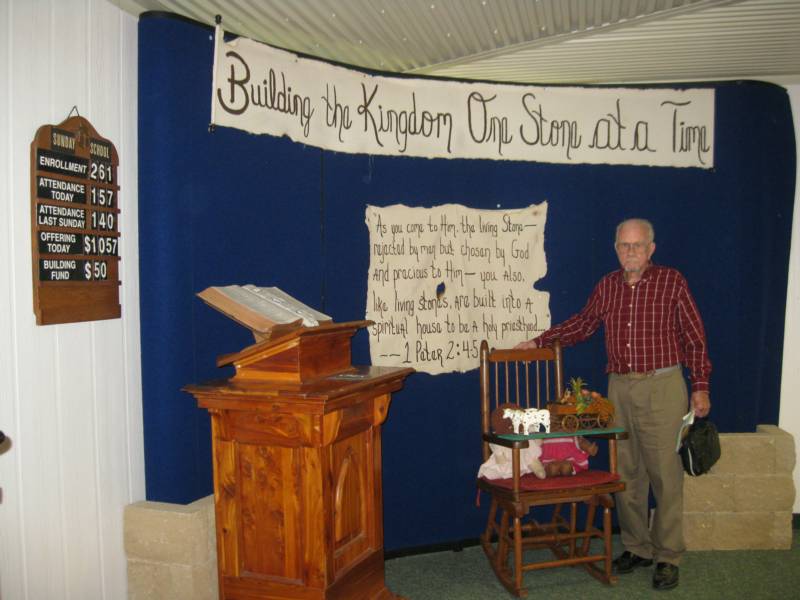 John Wilson is pictured at the First Baptist Church of Mixon. Deborah Burkett was pleased he kindly consented to an Oral History Video. John, a Deacon in the church for over 30 years, a wood carver among many other things, stands next to one of his creations--a chair with two sets of rockers. (More on John, his life and family soon as this Website is updated.)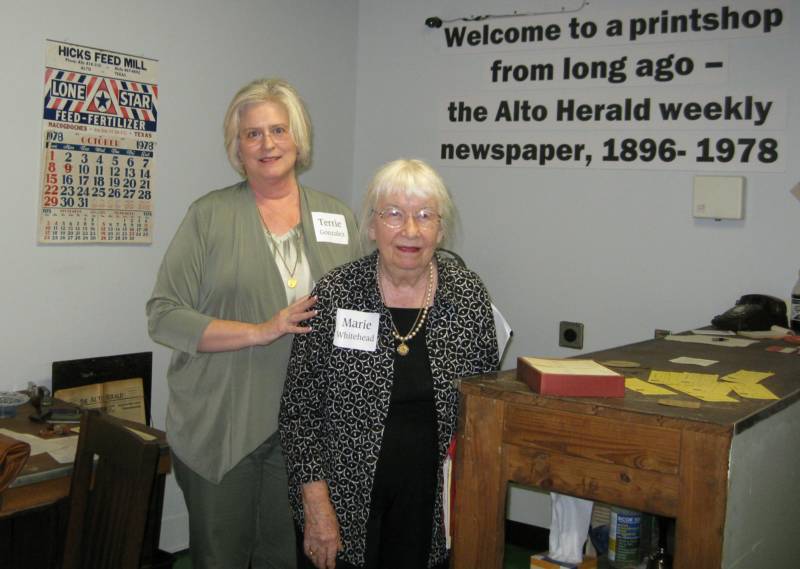 Congrats to the Whitehead and Gonzales families for preserving the Alto Herald! For more on this story link to the Cherokeean and to the Stephen F. Austin's local authors website--New Home for Old Alto Herald.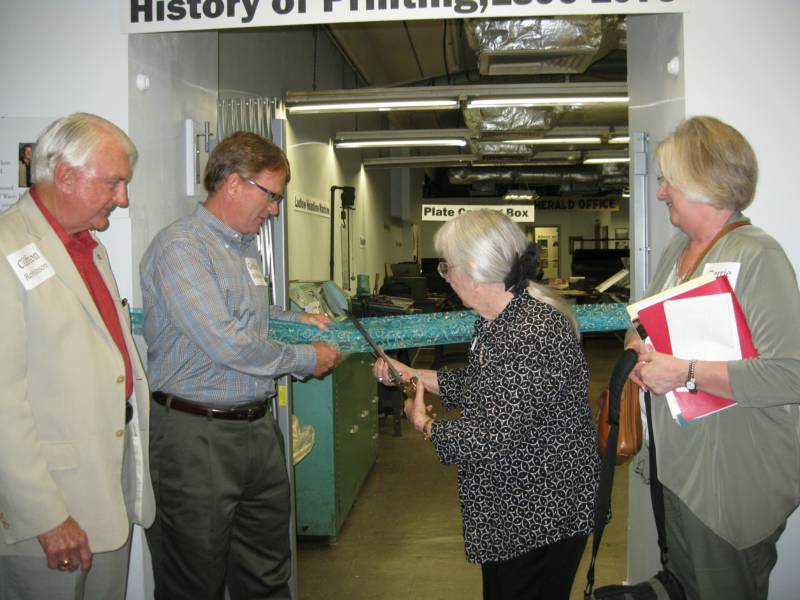 Ribbon Cutting Cermony for the Opening of the Alto Herald Weekly Wing of the museum.
Marie Whitehead cuts the ribbon, daughter Terri on the right looks on.
Elizabeth McCutcheon, Chair, invites one and all to visit our office. See the "Contact Us" section of our website for hours. She and the other officers: Shelley Cleaver, Vice Chair, and Bindi Caverness, Secretary, encourage you to buy your calendar today! Only $5 at our CCHC office in Rusk, at Creative Graphics in Jacksonville or from any CCHC member.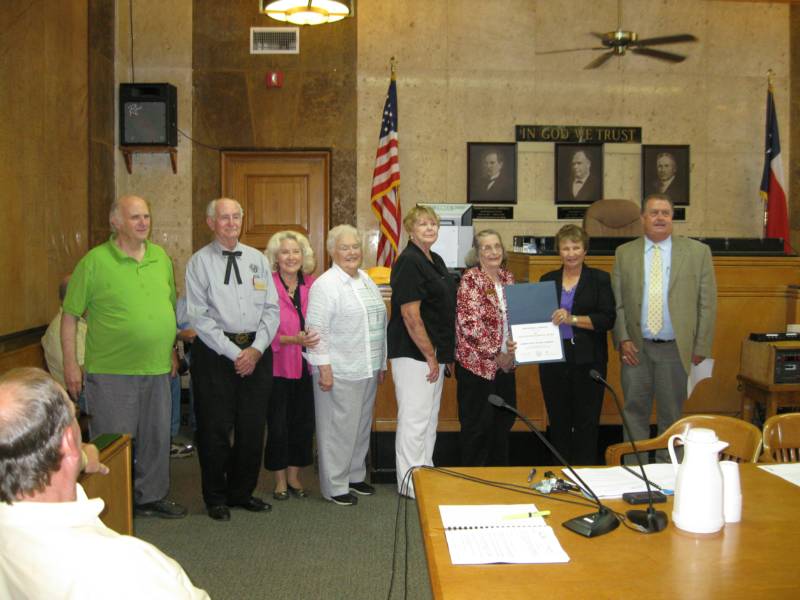 2011 Dinstinguished Service Award.
CCHC members gather at the Cherokee County Courthouse to accept the award from County Judge Chris Davis, seen on right. Left to right are: 30 year member Terry Guinn (former Chair), Vice Chair Shelley Cleaver, Deborah Burkett (Committee Chair of Historic Photos and Archives) Mary Taylor (Committee Chair of Oral History), Butch Holcomb and Mavis Wallace. Chair Elizabeth McCutcheon is holding the award.
See the other sections of our Website for more information on historical markers and other activities.
Thanks to Terry Guinn for his service--30 years as a member of the CCHC! See page two of this section of our website for photos of Terry presiding as Chair prior to his retirement.