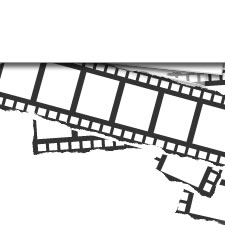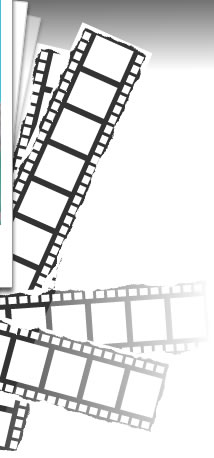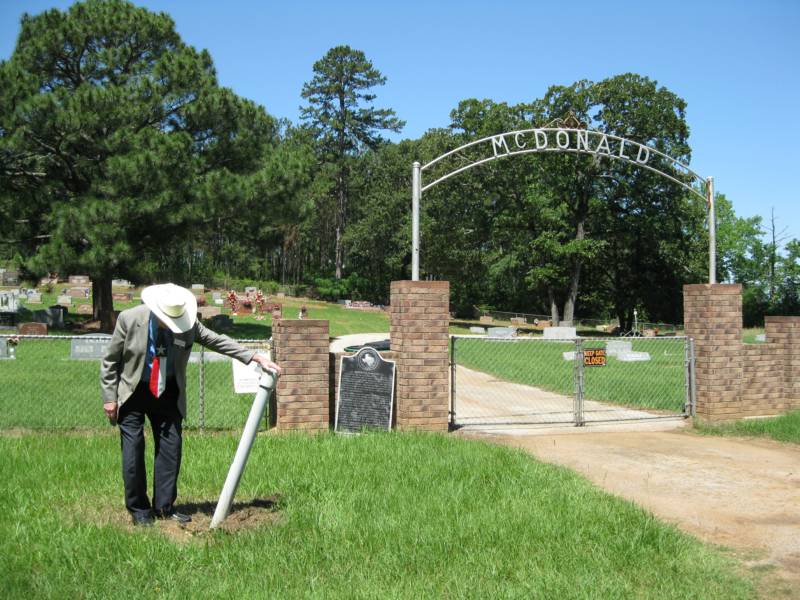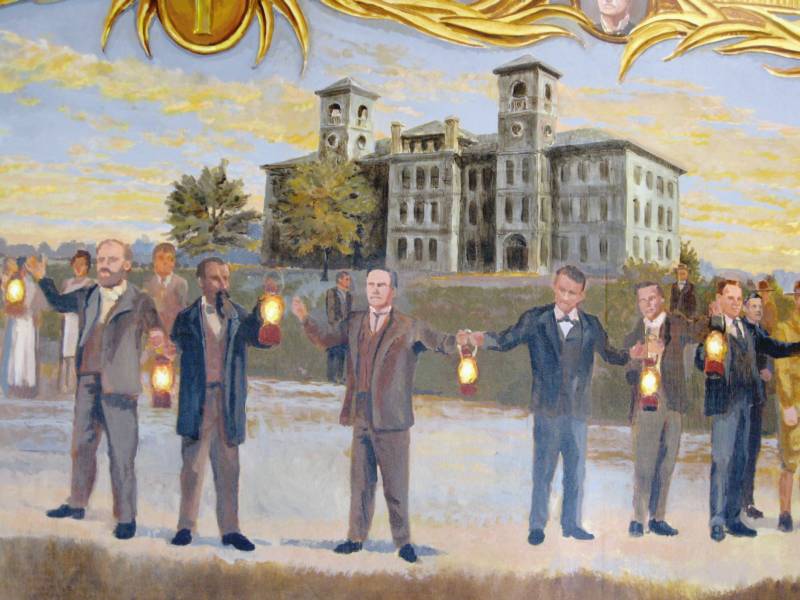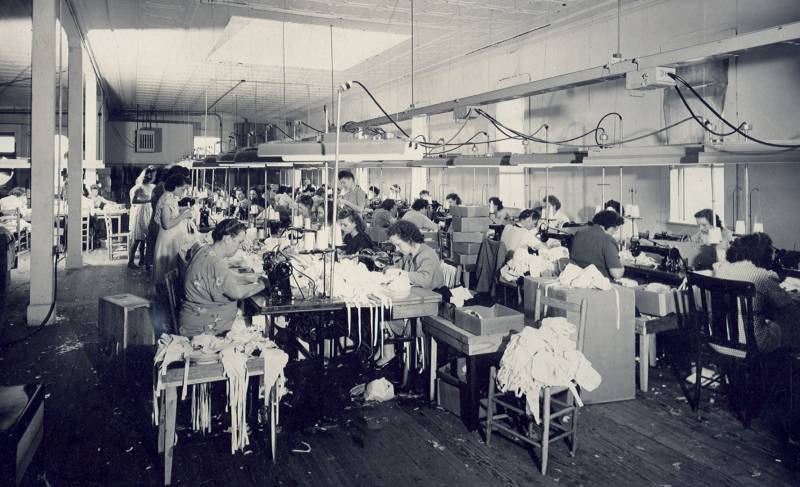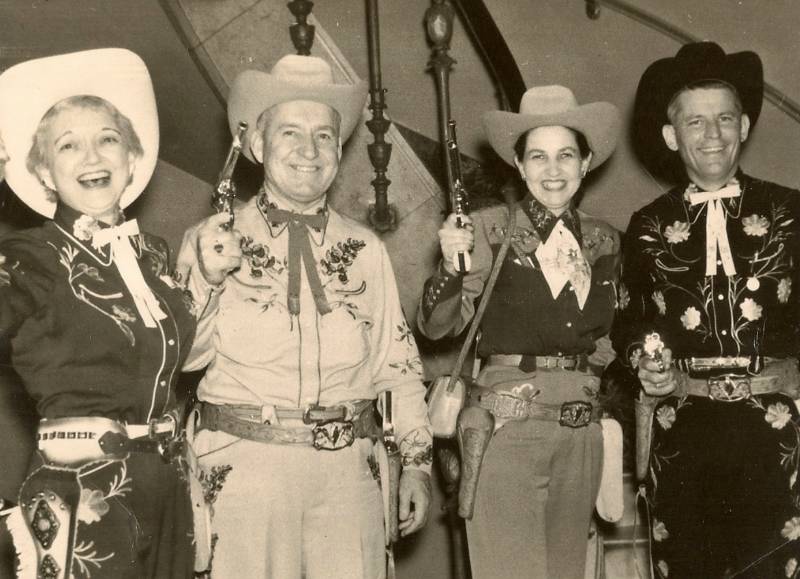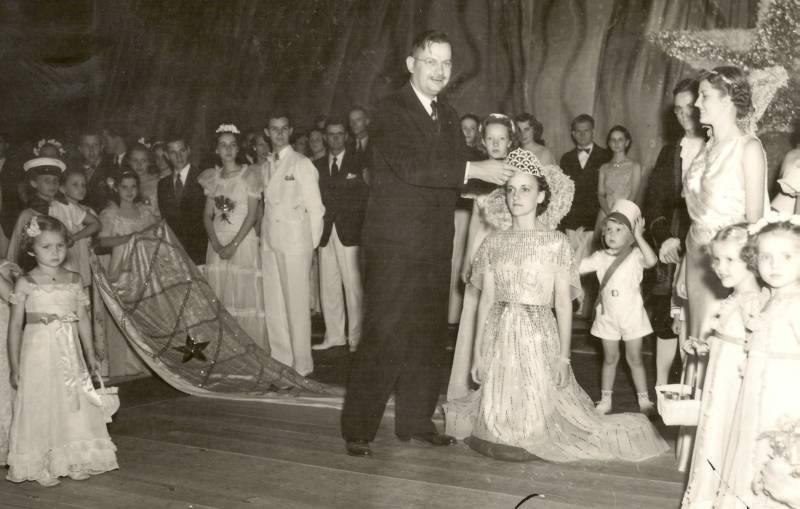 Mavis Wallace works on a window display with a photograph from our archives.
Forgiveness on the Wings
of Paper Cranes
by CCHC member Mary Taylor, the entire article was published in the Jacksonville Daily Progress April 17, 2010.
A Gallatin resident, Sharon Lybrand Dement (Mrs. Jackie) relates the story of events that occurred in her home area near present day Bly, Oregon when she was a young child at the time. This incident happened in the Fremont National Forest on beautiful Gearhart Mountain. In an effort to avenge American attacks on their Japanese homeland, Japan invented one of the strangest weapons in aerial combat. They began to craft balloons from mulberry paper, glued together with potato flour and filled with hydrogen; attached to the balloons were bombs that when exploded would kill, destory property, start forest fires and hopefully cause the American people tp panic...
The balloon project is the only occurrence of enemy aggression on US soil during World War II and the five people who were killed on Gearhart Mountain were the only World War II casualties on United States soil.
The spot of the explosion has been designated as an historic landmark by the National Register of Historic places. When the stone monument was dedicated on August 20, 1950, Oregon Governor, Douglas McKay, said the members of the Mitchell group were casualties "just as surely as if they had been in uniform."
...a group of Japanese ladies, once young girls who had worked in the factories making paper, and government officials traveled to Bly, Oregon to apologize and ask forgiveness. The ladies had folded 1,000 origami paper cranes, a Japanese symbol of healing, atonement, and peace, and placed them at the base of the Mitchell Monument, erected in 1950. This action was meant to heal wounds on both sides of the Pacific and form new friendships as the groups met face-to-face.
In recent years, numerous stories of the Oregon Balloon Bombing have been written in newspapers, other publications, and on the internet. A documentary, "On Paper Wings " was produced in 1985 by Ilana Sol of Portland, Oregon; the documentary is about the lives of the Japanese and American civilians who were affected by the balloon bomb project...
Marja & Harold Hamlin, Grace Holcomb, Roland Offord. 1953, New York City. Pictured in special Texas wear and displaying (toy) guns from Nichols Pistol Plant in Jacksonville.
Marja's Brassiere Company Has
Quite a History
by Deborah Burkett, the entire article appeared as a two part series in the Jacksvoville Daily Progress May 8, 2009
In 1903 Margia Childs was born into a successful business family in Jacksonville, Texas. She was the daughter of Carter and Minnie Lattimore Childs. Carter's parents, Mr. and Mrs. C. C. Childs, had moved their family from Fairfield, Texas to Jacksonville in 1900 and purchased a grocery store, which C.C. later sold to his sons Obie and Carter. This was the beginning of the Childs Brothers Grocery Stores. This enterprise became a chain of 35 supermarkets in Texas, Arkansas, and Louisiana. The chain eventually sold to the Kroger Company.
It was in this business environment that Margia Childs must have learned the value of commerce. Margia graduated from Baylor University and after teaching school for awhile she began designing bras. In 1942, her future husband, Harold H. Hamlin moved from Dallas to Jacksonville. Harold was working with a flour mill in the Dallas area and he met Margia in conjunction with the Childs Grocery Store. Margia established Marja Brassiere Company in 1939. Later she, along with her husband Harold, operated the firm until 1969.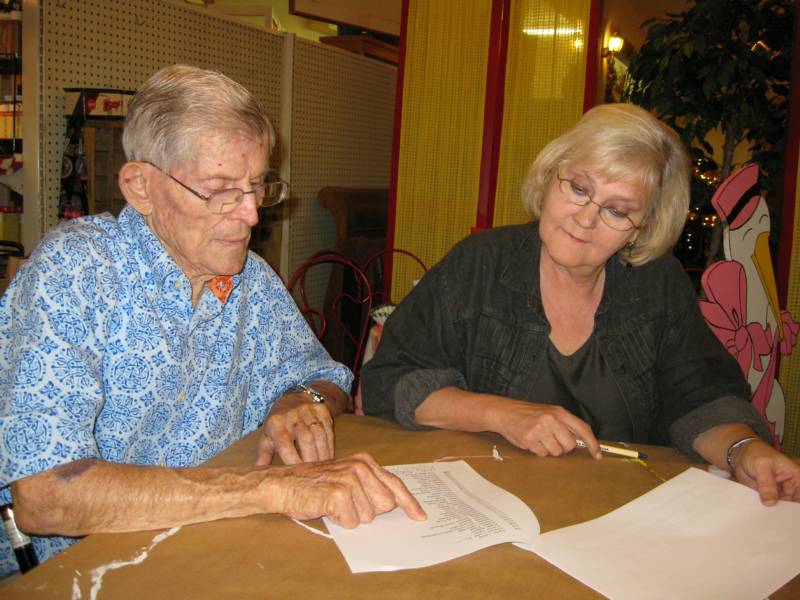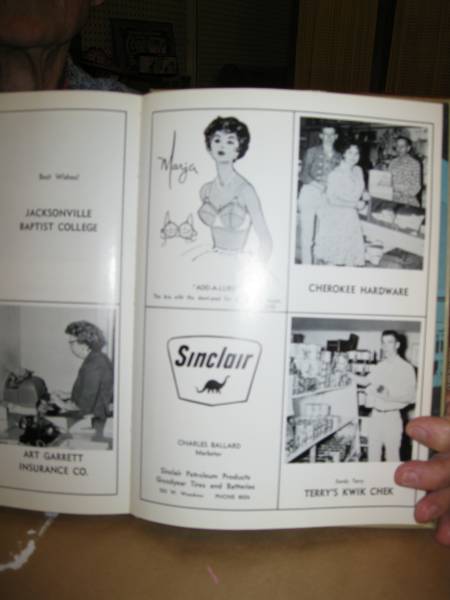 Marja's ad, Jacksonvile High School Yearbook
Roland Offord, former Executive Director, remembers the good times at Marja's with former employee, Janie Barber.
Marja's rented five warehouses in downtown Jacksonville, lofts or second stories were filled with industrial sewing machines. Tom Reed, a Black gentleman, worked for the company, pushing a buggy all over town between the locations. He delivered cut material to the line workers, fabric to be sewed; then Mr. Reed picked up the finished product and took to the shipping department. There were several departments—design, cutting, sewing, finishing and shipping. The main location of Marja's was on the corner of Commerce and Main Streets, where Austin Bank and the big clock are now. The Marja building that caught fire in 1969 was on the corner of Main and Wilson Streets, which is now a grassy lot behind the Austin Bank.
Mr. Offord explains, "We had big gas-fired heaters hanging from the ceiling in the cutting room. I feel sure a heater malfunctioned but the cause was never determined. The old warehouse floors were oil soaked and fabric all around. The building burnt to the ground. The top floor burnt and fell onto the first floor. Both floors held machines and the weight crushed everything into the basement. Everything was leveled and covered over with dirt. The sewing machines are still there, in the ground near the Austin Bank building."
Early years in Rusk, Texas, notice the dirt streets!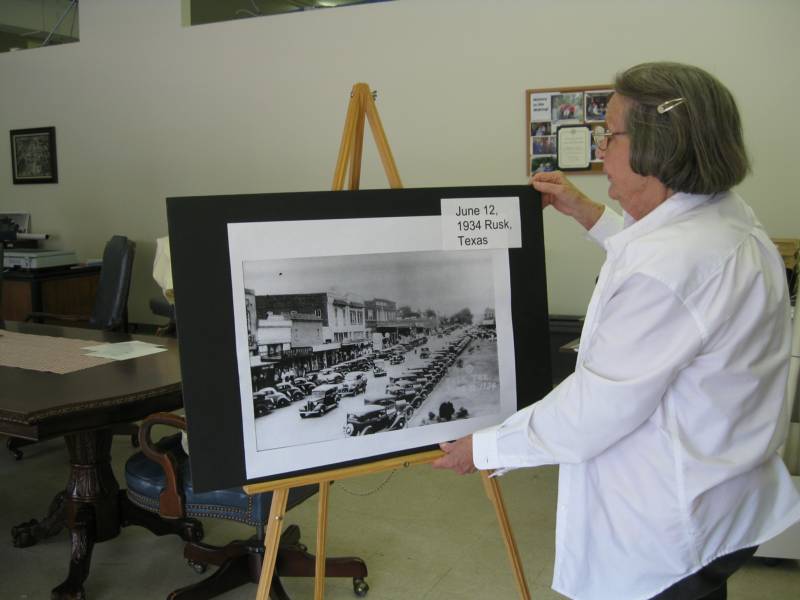 Examples of Historical images the CCHC Archives, more will be posted in the future
1. Tomato Queen Coronation
2. Barber Shop in Jacksonville
3. Dirt streets of Rusk, with Courthouse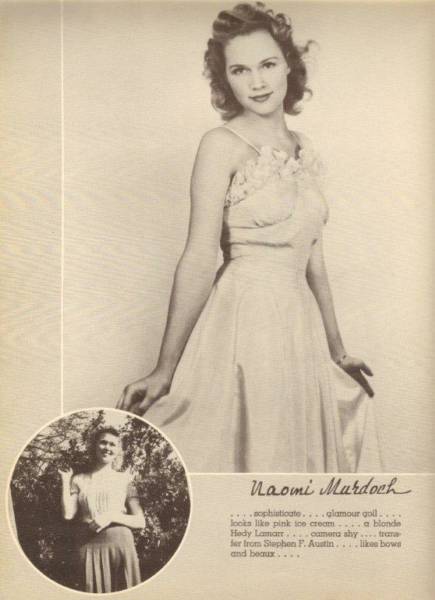 The Last Football Sweetheart
by Deborah Burkett, CCHC Member, article appeared in Jacksonville Daily Progress September 4, 2010
Naomi Murdock Trotman is the epitome of the phrase, 'beauty and brains'. Born on a farm near Palestine and reared in Rusk, this small town east Texas girl touched everyone with her winsome smile and endearing personality. While attending Rusk High School in 1938, Naomi was selected as a Jacksonville Tomato Festival Princess and later after graduation she entered Stephen F. Austin as a freshman. There she was named, along with three other girls, Freshman Beauty.
Transferring to Lon Morris College Naomi really blossomed. At the time Zula Holcomb Pearson was drama teacher and Zula's husband, Arch Pearson was a coach. Inspired by Zula, Naomi became a drama and speech major and soon starred in a one act play entitled, 'Sound and the Fury'. She and other members of the drama department traveled east Texas and under Zula's direction the play was a hit everywhere it was staged!
Naomi has the distinction of being the Last Football Sweetheat at Lon Morris. She was selected for the honor in 1940, which became the last season for the sport unit this year. Beneath her yearbook photograph, the staff printed funny and illuminating phases to describe this transfer-sophisticate...glamour 'goil'...looks like pink ice cream...a blonde Hedy Lamar...camera shy...
After Lon Morris, Naomi continued her education and ultimately received a Masters Degree in Education from SMU and taught in the Garland, Texas school system for over 30 years with an additional 5 years spent as a Master Teacher. Naomi married Josh Trotman and together they had two sons.
Naomi's second cousin, Marvin Troublefield of Rusk shares, "Naomi is a wonderful mother and wife, good cousin too...One of her sons, we call him 'Little Josh' was a Marine in Vietnam. He was a member of the helicopter crew who evacuated the personnel from the US Embassy during the fall of Saigon...Naomi's other son, Jim, is a very accomplished professional photographer in North Carolina; Naomi has many grandchildren..."
On the phone from her home in Dallas, Naomi remembers her days at Lon Morriss College, "Lon Morris was a wonderful institution in the 1940s; still is! So glad to see it growing and I believe students who attend the college will be blessed; I know I was..."
Pages from Lon Morris yearbook which depict Naomi as 'Sweetheart'
Lon Morris Mural
More on Lon Morris in future sections of our website. For example, we have additional images from the mural by Lee Jamison, a 1977 graduate of Lon Morris which will be posted. Deborah Burkett interviewed Lee for the article that appeared in the Jacksonville Daily Progress August16, 2009, entitled
Lon Morris College, a Storied Academic History by Deborah Burkett and Bindi Caveness.
The image at the left is taken from the mural which can be viewd as you enter Vivian and Bob Smith Gymnasium on campus. The images Lee has painted take you from the earliest beginnings of the school known as the New Danville Masonic Female Academy to the year 2000!
Shelley Cleaver looks at the damage done to the McDonald Cemetery Marker. Part of CCHC's mission is to help communites with historical marker applications and then supervise their care. Butch (Guy) Holcomb is Chair of our CCHC Marker Committee. This damage was reported to the state and steps have been made to replace the marker.
One of Marja's warehouses located in Jacksonville.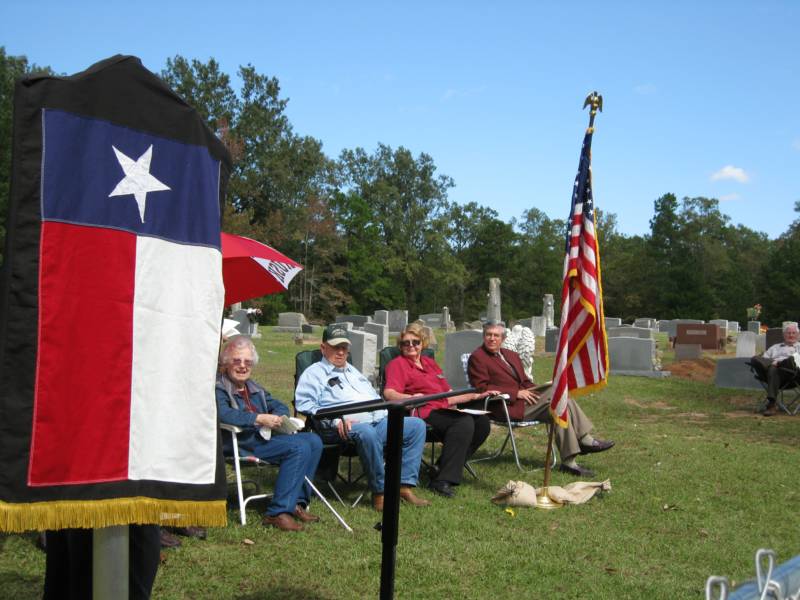 Hendrick Cemetery
Blue skies were the order of the day for the 2009 Hendrick Cemetery marker dedication! Second from left is Butch Guy Holcomb, Chair of CCHC Marker Committee along with Adams Chapel pastor, Charles Nunnally, on the far right. Also pictured are members of the Hendrick family, Genelle Richards and her brother George Robert Holcomb (in hat).

As part of CCHC's preservation efforts recent events are photographed and preserved in computer archives at the CCHC office.
Provided in the Archives section is only a sample of the historical photographs, oral history and video interviews and print media found in the CCHC office. Please take time to review the newspaper articles written by members of CCHC. Topics range from local history to more far reaching ones like the topic chosen by Mary Taylor, "Forgiveness on the Wings of Paper Cranes" and the article by Jim Cromwell, "America Celebrates 234th Birthday, We Must Remember our Fallen Sons, Daughters."
Election Night, 1916
See photo at left-- In the basement of the county courthouse in Rusk, democratic officials and interested parties check returns. Seen in the photograph standing third from the right is Lettie I. Baker, first woman elected to county-wide office. She was chosen County Treasurer in 1916, two years before she could vote.
Since July 2011, Deborah Burkett has written a monthly column for the Stephen F. Austin Local Author's website sponsored by the Center for Regional Heritage Research. Google and enjoy. Her titles feature Cherokee County history and include: The Day Sam Walton Came to Jacksonville and Removed the Sign; Election Night 1916; and Christmas Eve 1849.
Lettie I. Baker,elected to county-wide office in 1916 before she could vote!Photo above taken election night in Cherokee Co. Courthouse.
America Celebrates 234th
Birthday, We Must Remember our
Fallen Sons, Daughters
by Jim Cromwell, the entire article appeared in the Cherokeean Herald Newspaper June 30, 2010. Jim Cromwell, CDR, JAGC, UNS (ret) was guest speaker for the Memorial Day service May 31. The annual event is sponsored by the Veterans of Foreign Wars, American Legion and the Rusk Rotary Club.
Today we remember...Today on this most sacred day, we pause to relect on what has been given and sacrificed.
Let me tell you first about a young man from Kerrville. His name is Jacob Leicht. Jacob is a U.S. Marine. He was born on the 4th of July 1985. In 2007 he was serving in Iraq when his Hummer was destroyed by a mine. He suffered a leg broken in two places and severe facial and head trauma. During the two years of hospitalization he wrote letter after letter to the Marine Corps, his congressman and his senator begging to be sent back to the front lines of combat to be with his fellow Marines. In April 2010 his wish was granted and he returned to combat, this time in Afghanistan. In May he became the 1,000th U.S. combat death in Afghanistan when he stepped on a land mine.
His younger brother Jesse said, "Jacob always said he wanted to die for his country. He didn't want to die having a heart attack, or just die being an old man. He wanted to die for something."...
...Those of us who are still breathing can't repay those who sacrificed their lives defending us but at the very least, we can, and we must remember them...
...Let us never forget... But let us also remember the terrorist plots that have been foiled and the killers that have been brought to justice because Americans were wiling to pay the price...More than one million men and women have died in service to this nation in wars and conflicts since 1775...We must continue to live up to President Lincoln's promise to not just care for him who shall have borne the battle, but for his widow and his orphan...
...Let us always remember them. God bless you all, God bless our troops, God bless our Constitution and God Bless America.